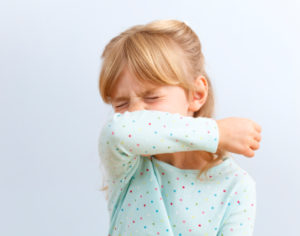 Mycoplasma pneuomoniae bacterium is a very common PANS trigger. Any patient with a history of pneumonia, "Walking Pneumonia", croup, or chronic cough prior to onset of PANS symptoms should be assessed for Mycoplasma infection. I have also treated children for PANS who have never had pneumonia symptoms, yet experienced a sudden onset of PANS symptoms after being in contact with an infected relative (grandparent with pneumonia for example). As a result, careful investigation of the family history is important. Keep in mind that other family members harbouring this bacterium must also be treated as it is a very contagious respiratory infection (even if they do not present with PANS symptoms). Pets in the household may also carry this bacterium as Mycoplasma is a potential cause for Kennel Cough in dogs.
Mycoplasma is VERY SNEAKY! This bacterium has the potential to change its unique cellular membrane to mimic the cell membrane of its hosts' cells. This allows it to evade the host's immune system. Because of this, the immune system may mistake Mycoplasma cells for its own cells, thus triggering an autoimmune response.
Key Symptoms:
Usual PANS symptoms (OCD, tics, anxiety, urinary frequency, regressive behaviour, mood changes)
Current or past history of pneumonia, chronic cough, croup, chest cold, ear infections preceding the onset of PANS symptoms
Nausea
Food restriction/disordered eating (or less commonly, ravenous appetite/over-eating)
Joint pain
Persistent low-grade fever
Chronic fatigue
Dry cough, wheezing or trouble breathing
Lab Testing:
Mycoplasma PCR
Mycoplasma IgM titer
Treatment:
Specific antibiotics are required to treat Mycoplasma infection. The Penicillin/Amoxicillin group of antibiotics that are commonly used for Streptococcal PANDAS infection will not be effective for a patient with Mycoplasma. The choice for antibiotic depends on the age of the child, and potential for interactions with other medications they may be taking.
Some plant-based antimicrobials have efficacy against Mycoplasma bacterium as well, and may be used as an adjunct to antibiotic therapy.